The PNH Difference: High Quality & Dependability
We are true torque converter professionals. We do not just cut open used converters and weld them back together and call it good enough. If you want hasty, cheap, low quality converters—then PNH is NOT for you. Show More
How PNH Brings Relentless Quality to your Torque Converter:
Every single torque converter processed in our facility goes through an exhaustive checkpoint protocol to find EXACTLY why it failed.
Next, we implement numerous corrective actions to fix common failure points for each specific model. We see more torque converters in a single day than most competitors see in a year; which gives us a tremendous amount of insight and statistics to fully understand OEM design flaws. In addition to failure point corrections, we get to the root cause of the problems and implement changes so your torque converter lasts.
Converters are then thoroughly rebuilt with all the new and necessary corrective actions in place; ensuring future breakdowns don't occur!
Precision is not just our name, it is what we do. The tolerances that we maintain during the rebuild process ensure you are getting the best of the best.
Our facility sets the bar on technology and process flow. Every single converter is built to exceed your expectations. Brand new components, high production efficiencies, so you get more for less.
When you get a torque converter from Precision of New Hampton, you are not getting "just" a torque converter! You are getting the BEST of the BEST!
Find out why we are the largest torque converter manufacturer in the USA.
Show Less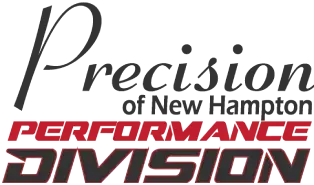 We are more than just OEM reman, we have a dedicated High Performance team that knows how to build converters that can handle as much horsepower as you can throw at it. If you want to finish first, let PNH's Performance Division build you a state of the art torque converter. Show More
It is no coincidence why most first place race champions use PNH. Even though we build more billeted converters than anyone in the world, each converter is built to your exact specifications. If you know exactly what you want, we can do it. If you are not sure what you want, we can help make decisions for you to ensure your torque converter is going to hold up to your application.
Making performance converters takes both science and art. We have honed our craft; converters made in the High Performance Division of PNH are technological masterpieces. We understand the smallest nuances of your converter are relevant to your transmission build. And, we craft each performance converter to seamlessly transfer all the raw power of your engine. The result, like most racing professionals will tell you, is world-class speed and performance.
We know what it takes to get it right. Find out why Precision of New Hampton is the longest standing converter manufacturer in the industry. Get in touch with us, we'd love to hear from you!
Show Less
We can accommodate large orders that you may have. With over 1 million torque converters in our stock, we are sure to have what you need, when you need it. We want to show you why we are the world's largest torque converter manufacturer.
Large orders may also qualify for a discount.
Our friendly, knowledgeable sales staff is here to work with you to handle your order. For bulk orders, please contact us.